Carmel Apple Grapes: Surfside x @jacqleengrace
Caramel Apple Grapes: Surfside x @jacqleengrace
We recently teamed up with elk grove native, business owner, and super mom Jacqleen to bring to you the perfect treat for your next holiday gathering! We all love caramel apples but know how messy they can be to eat especially in a party setting. So we came up with something equally delicious with a little holiday flair and bite-size appeal. Not quite a braces-friendly treat so if you or your child are currently undergoing orthodontic treatment you may want to go for chocolate covered and omit the nuts.
Caramel Apple Grapes Ingredients:
One bag green grapes (try to choose larger-size grapes)
One (11 ounce) bag caramel bits
2 Tablespoons heavy cream or water
1 cup chopped peanuts
Toothpicks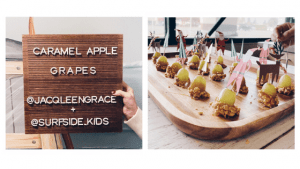 1: Wash grapes, remove stem and place in the freezer for 1 hour.
2: Melt the caramel for dipping.
Stovetop:  in small saucepan, add in the caramel bits and 2 Tablespoons heavy cream or water over medium-low heat. Cook, stirring occasionally.
Microwave: In a small glass bowl, microwave for 1.5 minutes, then stir in Tablespoons heavy cream or water.
3: take out grapes and place on a paper towels.
4: Poke toothpicks in grapes, then dip in caramel and then again in the peanuts. Transfer to a parchment-lined baking sheet to let set.
#PROTIP spear grape stem side down. Serve & Enjoy!
From our family to yours, we wish you the most fantastic holiday season! We look forward to seeing you in the new year!