The Perfect Valentine's Day Recipe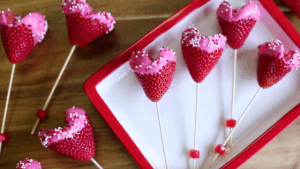 Happy National Heart Month Friends! With love notes and candy heart exchanges all around, we have teamed up with Sacramento local mom-business owner, Brittany Davis of @thewillowco to bring you this kid-approved, super-fun strawberry heart treat! These are perfect for little one's school Valentine's party or at home treat. 
Ingredients & Tools You Need
   

Fresh strawberries, cut into hearts

. Parents – simply cut a small triangle wedge out of the top of the strawberry. You'll have an instant heart-shape!

    C

hocolate morsels.

We recommend a sugar-free chocolate option. Be sure to use fun chocolate colors such as red or white in honor of the holiday. Parents – You will have to either use microwavable dipping chocolate or on-stove melting. 

   

Colored sprinkles.

Simple nonpareils are a good choice, perhaps in white, red, or pink. You may be able to find special Valentine's Day inspired sprinkles that are heart-shaped. They'll make a fun addition to your Strawberry Heart Treats!

   

Large decorative toothpicks.

You'd be surprised how many fun options there are to choose from, we found ours on Amazon.com.
Assembling the Yummy Valentine's Day Treats
Our favorite part about this Heart Day recipe is how fun it is. Ask your little ones to join in – here's what you'll need to do:
Wash and dry your strawberries, set aside

Melt chocolate morsels, we recommend one color melting/dipping at a time.

Spear the strawberry from the bottom, v shape cutout facing up.

Dip the skewered strawberry into the melted chocolate until the top is well-coated

Sprinkle still-warm chocolate with your sprinkles. 
#PROTIP lay down parchment paper onto your tray for cooling, this is help with your strawberries sticking to the plate and breaking.
Repeat these simple steps until each of the delicious strawberry heart treats has been made.

Place finished strawberries in the fridge for additional setting/ hardening. 

Share & Enjoy!
For an additional festive bonus* present your perfect heart treats on red or white plates. If you are sending these yummy treats to your child's class to enjoy, consider wrapping them in small candy bags, available from craft, and even big box stores in the craft section. Tie them up with a red tie or ribbon, and you'll be all set! 
There is definitely some sugar added to these scrumptious homemade treats, but the fresh strawberry is the star of the show. Strawberries contain an organic compound called malic acid, which is actually a good natural whitener for enamel; plus the more that kids are encouraged to enjoy fresh fruits, the more likely they will be to seek them out when their sweet tooth kicks in.
We hope you enjoyed our Valentine's Day recipe collaboration with Brittany Davis! Don't forget that it's also important to inspire a love of healthy teeth and a healthy smile. Contact Surfside Kids Dental to schedule a pediatric dentistry appointment with your Fair Oaks kid's dentist!