Committed to the Community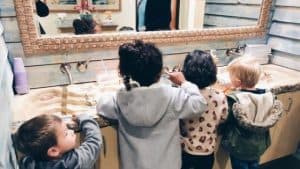 Surfside Dental is Committed to Our Community
At Surfside Dental and Orthodontics, we believe that promoting good dental practices from a young age is key to lifelong dental health. For that reason, we work with our patients and our community to introduce good oral health habits.
Community outreach is a huge part of our mission at Surfside.  This is why we proudly offer educational presentations to local businesses, daycares, and schools. Our oral health education program introduces healthy habits and allows children to become interested in their dental office experience. We refine their at-home care routine to ensure their smile stays bright and beautiful!
An Apple a Day Could Keep the Cavities Away!
We love to teach each and every child that dental hygiene can be fun! To make our dental health presentations memorable to your little Surfsiders, our team hosts an interactive and engaging presentation. In these presentations, we teach kids about what foods to choose, how to properly brush, ways to avoid cavities, plaque, and other dental health-related tips. By using colorful posters, some dancing, and quick facts, kiddos stay involved in the discussion. As a result, they always leave with excitement about brushing their teeth at home!
In addition to hosting a presentation, all children will receive a take-home bag with an educational workbook, toothbrush, paste, floss, and other surfside goodies. This way they can practice good dental habits! These habits include daily tooth-brushing (x2), frequent flossing, and eating super nutrient foods for your teeth at home.
We love working with our community's youth-centered businesses and schools to promote strong oral health practices. If you are interested in having us come out to you or scheduling an in-office field trip please email us at [email protected]! For pediatric dentistry or orthodontic services please contact us online!
Surf on friends,