National Children's Dental Health Month: How We Put Families First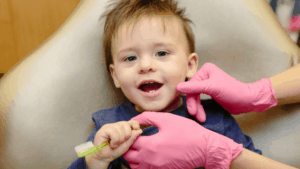 As we take notice of National Children's Dental Health Month, we've considered how much we care about the patients who entrust us each and every day, both at our Land Park location and others. We work hard to be the best dentist for all families. Our fun and professional Land Park team is committed to not only providing top-of-the-line in dental care, but also ensuring that every patient enjoys their visit. Whether your child is young or old, loves the dentist or is more anxious about visiting, or has specific needs tailored for your comfort- we promise to take care of your family no matter what. Here are just a few client testimonials that really shine and showcase how we've been able to provide awesome care for our patients:
Extra-Special Consideration for our Special Needs Friends
We're grateful to be trusted with kids of all ages and abilities, which is why we were thankful to receive this review from our friend Sheila. Thank you, Sheila, for giving us the opportunity to take care of your son's teeth and give your family a great experience!

A Great Environment for Pediatric Care
One thing that we pride ourselves on here at Surfside Kids Dental and orthodontics Land Park is our ability to make this a fun and anxiety-free experience for young kiddos. We start treatment as young as their earliest tooth eruption and can ensure that we'll have fun and keep your young one at ease! Check out this review regarding one of our little friends:

…And A Good Match for Adults, too!
Our name may be Surfside Kids, but we know adults are children at heart and need a fun and welcoming dental experience, too! That's why we accept adult orthodontic patients on a regular basis here at our Land Park location. Check out Lianne's experience with our adult ortho care:

As we take the time to celebrate National Children's Dental Health Month, we're grateful to all the families and individuals that trust us to give them a fun, warm, and enjoyable dental experience. If you're ready to take the next step for yourself or your child, contact our Land Park location today to get started.