Invisalign for Brides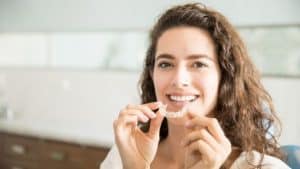 Invisalign for Brides
At Surfside Kids Dental in Land Park, we are passionate about dental work with kids of all ages. We thrive in our kid-friendly environment, working hard to ensure that each and every child's dental and orthodontic needs are taken care of. However, parents tend to neglect their own ortho needs at times. We've seen a growing demand for adult orthodontic treatment in our area. Because of this, we are proud to offer a myriad of orthodontic services for both children and adults!
Today we are sitting down with Heather, a Surfside Mom to three adorable Surfsiders. Heather recently decided to address her own orthodontic concerns and take the leap into Invisalign with the help of Surfside's Orthodontics department. Join us as we dive into Heather's journey to a straighter, more beautiful smile!
Heather's Journey
When Heather came to us, she had prior orthodontic treatment back in the 90s. As we all know, if you don't wear your retainer or follow through with your ortho treatment, your teeth can go back to being less than perfect. Heather was looking to touch up her smile with Invisalign to prepare for an upcoming wedding. 
Heather was researching around at a few different dentists before she made her final decision. With many different dentists in the area, Heather wanted to make sure she made the best possible choice. She received an email from Surfside Kids Dental announcing that we now do orthodontic work with adults. 
Because of the great customer service Heather experienced at Surfside Kids Dental with her own family, she knew she had to research this option. Heather called and made a consultation appointment as soon as she received the email for the very same day. 
"The staff is very professional, personable, and friendly. They do a tremendous job of making you feel like a part of the Surfside Kids Dental family." 
Thank you so much, Heather, for choosing us for your Invisalign needs! We are so happy we were able to get your smile ready for your big wedding day. We appreciate your time speaking with us, and we look forward to your upcoming visit!
If you are interested in Invisalign, call Surfside Kids Dental and Orthodontics in Land Park today and book a consultation with us! We would love to assist you with your dental needs.